Your home's interior is your prime living space. But don't forget, you also have an entire property to call your own! A few outdoor house additions in Phoenix, AZ can extend your living space into the great outdoors, giving you access to the full potential of your property. Super Cool Services aims to create spaces that are comfortable, durable and accommodating to your lifestyle.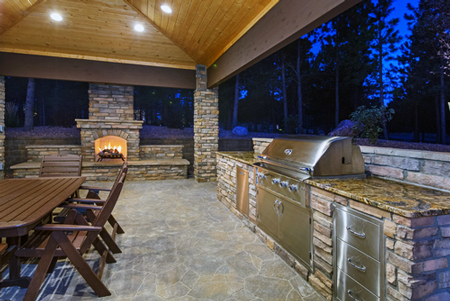 We install various products:
Gates

Gates are a great privacy addition to your property. If you don't want solicitors or people using your driveway as a turnaround, a gate can help! Our gates are electrical, giving you the power to control them with the press of a button, for maximum convenience.

Security Fences

Another privacy addition that goes a long way, security fences will keep trespassers off of your lot. No more worrying about people passing through your yard or disrupting your day. Our fences are equal parts aesthetically pleasing and effective at protecting your privacy.

Chimeneas

These patio additions are a great way to add the light and warmth of a fire to your backyard, on-demand. We design chimeneas in all shapes and sizes, accommodating your design preferences and control settings into one superior fire feature.

Patios with Kitchens

An outdoor kitchen will boost your home's total value and give you a reason to spend more time entertaining outdoors! Add a kitchen as part of your patio remodeling in Phoenix, AZ or let us help you pour a new patio that incorporates a total kitchen environment.

Elevated Patios

Our work with patios includes elevated patios, which can add new dimension and potential to your backyard. Let us incorporate an elevated patio as part of your existing outdoor living space or design and construction something totally unique to your property.

Steel Walls

We have experience working with steel walls and can help you add these aesthetic installations to your property in just the right way. Count on us to install them for maximum resilience, giving you the benefit of shade, privacy and décor.
Ready to improve your exterior and add a feature or two to your property? Super Cool Services will make sure your investment is well worth it! Contact us today at
(602) 304-1300
to begin planning for your new patio, security fence or other outdoor fixture.